KRE Aluminum D Port Head
Please checkout the current pricing on KRE D port heads on the current website here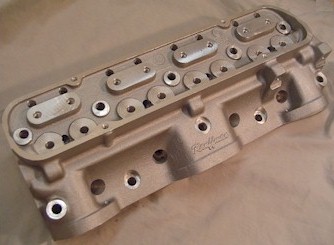 Want to run 11.80's in a 3700 lb car?
This is the head you can do it with!
The new KRE Aluminum D port head has the latest developments in cylinder head technology incorporated into it. They feature the standard Pontiac exhaust arrangement; Saving you lots of money not having to buy a set of round port headers. These heads can be used with stock exhaust manifolds or with standard d-port headers.

The heads are cast from 356-T6 aircraft aluminum and are nearly half the weight of a stock cast iron head. They come with hardened steel seats, and bronze alloy guides. The deck thickness is 5/8" and they sport a new high efficiency heart shaped combustion chamber. The spark plug location angle has also been improved upon to create a very efficient chamber burn.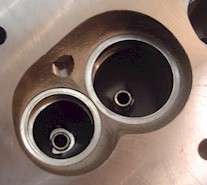 The heads are designed to use all of your stock D port head parts! (except your head bolts / head studs - see recommended installation items) Intake and exhaust valve centers are in the stock locations as well. These heads were designed for easy iron head replacement. They were also designed to pick up where the stock D ports leave off; Taking you to that next level of performance!

Other improvements....
Oil drain backs are positioned to allow for a more complete draining back of the valve cover area preventing oil from standing on the valve seals

pushrod tubes are designed to accommodate 1.65 rockers without grinding on the heads

ports have a thick roof, wall, and gasket material areas for performance port work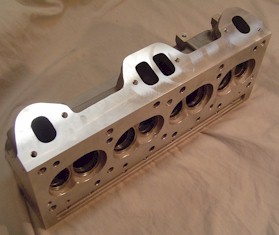 Heads can be used on your 1965 - 1979 Pontiac motor
Displacements from 350 - 455 cid

** Please note: You should always check your pushrod length during assembly. Do NOT assume that you have the correct length! Typically, the KRE Ds with roller rockers use a 9.300 pushrod, but again you much check it!

Current Pricing can be found on the new portion of the website:
Current KRE D Port Head Pricing
The eads flow between 260-270 cfm on the intake and approximately 210-220 on the exhaust. Head use a Ferrea 5000 series valve with a 5.100 length. We can have your heads CNC ported for you to meet your performance needs. We currently offer porting on the 74cc and 85 cc heads.
We can also offer you a complete head replacement kit. The complete kit includes ARP head studs, head gaskets, intake gaskets, and valve cover gaskets.
CNC Port Work Options
There are 4 different CNC porting options now available on the KRE Aluminum D Port Heads
| | | | |
| --- | --- | --- | --- |
| 290 CFM Port | 310 CFM Port | 325 CFM Port | 340 CFM Port |
Current Pricing can be found on the new portion of the website:
Current KRE D Port Head Pricing
Still not convinced that these heads are the right performance choice for you? Consider this....to build a set of Stock Pontiac 6X heads that will flow 240 cfm and net you a pump gas friendly compression ratio you will need to spend about $1,400.00! Off the shelf ready to bolt on aluminum d ports will cost you $1,950.00. Your engine will be able to run better with unleaded gas at a higher compression ratio than stock and be less prone to detonation. Not to mention you will be making MORE POWER!
Check out how we made 650 HP with a set of 340 cfm KRE 340 Ds
ON PUMP GAS!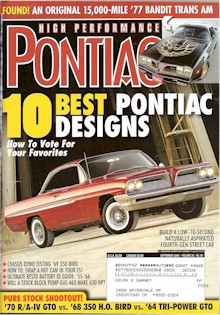 PUMP GAS POUNDER - Will TIP's 400 Block / KRE Heade combo produce more than 600 HP on 93 Octane? - by John Carollo Photography by the Author
---
All heads can be ordered in any special way for any special application. E-mail for your specific application.