MR-1 Aftermarket Pontiac Block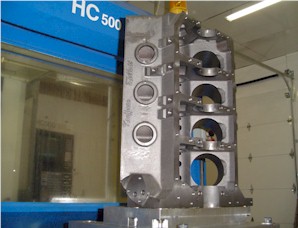 MR-1A Aluminum Blocks are now available!
$4,495.00
Cast Iron Pontiac blocks are $3,095.00
for either 3" or 3.25" mains
Blocks are in stock!
---
GOOD NEWS!
As of April 20th, 2009 the K&M Performance Parts MR-1 blocks have been approved for competition in the NHRA Stock and Super Stock classes!
---
Ready to make some real power? This block is for YOU!
The new MR-1 Pontiac block is now available. Blocks are priced @ $3,095.00 plus shipping (truck freight to your location).
Here are just some of the MR-1 Pontiac Block improvements over a stock block:
made from high quality cast iron
has a thicker deck
comes standard with steel 4 bolt main caps
there is no water jacket penetration at the clutch ball
block is capable of large bore and stroke sizes
dual bellhousing bolt pattern
lifter galley is strengthened - no additional lifter bore brace is required
max bore size of 4.4
The aftermarket Pontiac MR-1 block was designed to accept ALL stock Pontiac parts!
- Pontiac roller lifters (Crower as well as other brands)
- stand oil pump drive rod
- standard press in freeze plugs
- NO OIL PAN FRAME RAIL CLEARANCE ISSUES!
- All standard Pontiac cooling passages are present
- No Timing cover issues
| | |
| --- | --- |
| 50mm Cam Tunnel Option - $185.00 | Bronze Lifter Bushing Option - $300.00 |
| | |
55mm Cam Tunnel Option NOW AVAILABLE!
You can now order your MR-1 Pontiac Block with a 50mm cam tunnel for an extra $135! Boring the cam tunnel is $50 and a complete set of needle cam bearings costs $85.00.
Cam tunnel boring can be done at a cost of $150.00 (just boring) for all other Pontiac blocks.

Designed for BOTH street and race use!