2008 AMES Performance Tripower Pontiac Nationals Recap

August 8, 9, & 10, 2008
We were very pleased to be apart of the 2008 event. We sponsored the street class again as well as provided out CASH contingency plan for Saturday's and Sunday's racing program. We also raffled off a pair of Billet - TEK Tin Indian Performance logo valve covers with bolts and gaskets this year. While attendance was down slightly this year, Norwalk still proved to be the premier Pontiac event in the country! We are pleased to announce that we will be sponsoring the Street class again for the 2009 Ames Performance Tripower Pontiac Nationals. The event will be held August 7th, 8th, and 9th.
---

It was another great year at Norwalk. The weather was almost perfect all weekend. Temps were high 70's low 80's with a DA of approx 2400 feet. Certainly beat the typical +90 degree days with 90+ % humidity!

The Tin Indian Performance Digger on a 7.40 pass at the 2008 Pontiac Tripower Nationals
Photo courtesy of Pontiac Enthusiast Magazine
This year we brought the TIP Rear Engine Dragster and My '66 GTO. I drove the Dragster which proved to be very consistent over the course of the weekend. The car qualified #2 in the KRE Quick 16 with a 7.40 @ 179. This pass was within .03 of our quickest pass ever with the car. We are looking forward to putting more laps on the car in the fall. We have a few more items we want to test this year.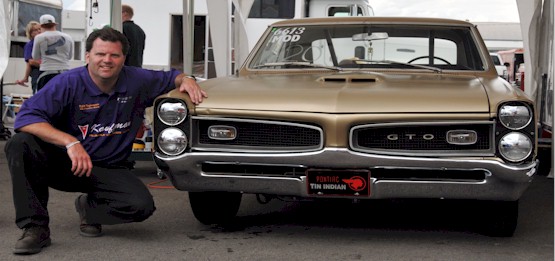 Craig Dienes drove the '66 GTO street car all weekend. We put together a new pump gas combo specifically for the Norwalk event. The combo is centered around a 463 cid engine that features a set of bone stock KRE High Port heads and small hydraulic roller cam. This combo has run a best of 11.13 @ 119 mph with a 1.51 60' time. It ran consistent 11.20s @ 117 mph with Craig at the helm.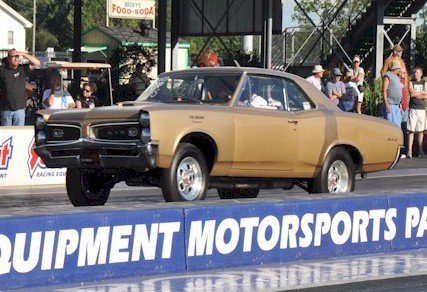 This combo make 580 HP and 590 FT LBS of TORQUE! Click here for more info on this low 11 second pump gas combo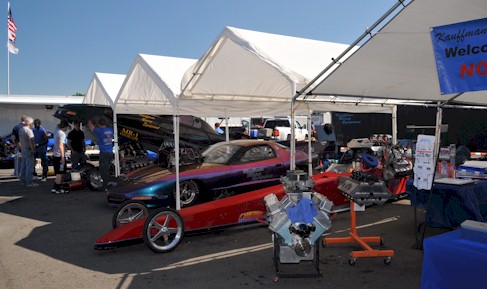 This year at Norwalk KRE fielded 3 blower cars which was quite an impressive sight. Mark Kauffman's blown injected alky '97 Pro Mod Firebird, Bill Mellott's 2002 blown injected Firebird Funny Car, and Jeff Kauffman's blown injected Rear Engine Dragster! You can find more information about the Kauffman cars @ www.krepower.com. For info on Bill Mellott's F/C check out www.mellottpromodracing.com.
We setup in the normal spot with both Kauffman Racing Equipment and K & M Performance Parts which is right behind customer service on the race side. We had 2 engines on display, 1 full race motor featuring High Port heads and a Kauffman sheet metal dual 4 intake manifold with billet intake runners. The other engine was an all aluminum pump gas combo using a MR-1A block and KRE D port heads.
Butler Frantic Four / Quick 4 Racing
Mark Kauffman was set to compete in the Butler Frantic 4 for the weekend. Early testing this year revealed more power out of his current combo and KRE was going to unveil it at the event. On Mark's first pass of the weekend he whisped a head gasket and the team decided against thrashing on the car to make the show.
With Mark out, that left the race open to Dave Debono, John Welter and Mike Cooper. All seemed to have issues during the course of the weekend. Dave Debono hurt his engine and could not finish qualifying. John Welter broke and could not make it to the finals. Mike Cooper won uncontested by running a 7.36 @ 186 mph.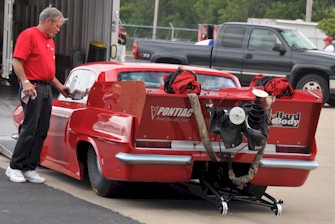 KRE Quick 16 Open side
This years KRE Quick 16 was marked by a number of firsts. It was the first time we had run sub 7.50 ets at the Norwalk event. It was the first year Bill Mellott had raced / been behind the wheel of a blown injected Pontiac engine blasting down the quarter mile in 3 years! And last but not least, it was the first time anyone has seen a Pontiac powered car run 6.62 @ 209 mph!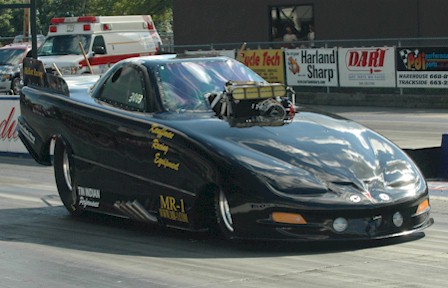 Bill Mellott debuted hhis 2002 Firebird F/C at the event on Friday. He made a few 60' burps with the car and worked on progressively getting the car further down track under power. Bill's combo features a K&M Performance billet aluminum block with a pair of KRE billet aluminum canted valve heads with a matching billet aluminum intake. On Sunday during the last KRE Quick 16 qualifying session Bill made a full 1/8 mile pass leaving relatively soft. The car ran a 7.45 @ 149! Bill qualified #3 in the KRE Quick 16 with that effort but he decided against running in the program. Bill stated "That is not a bracket car!" and the decision was made to give someone else an opportunity to run in the event.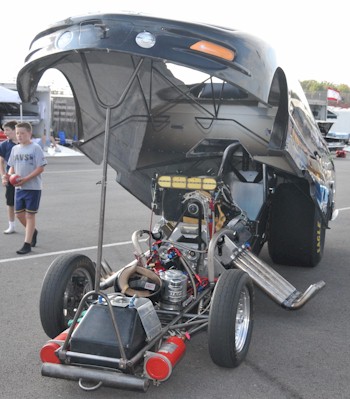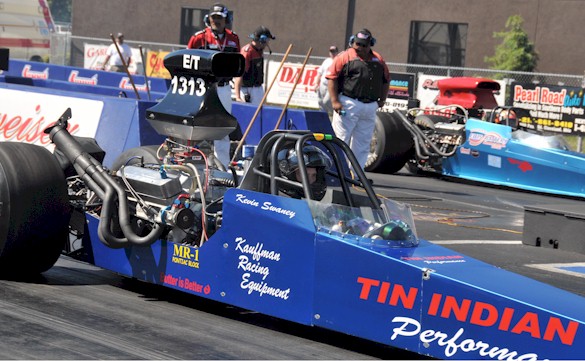 As I said before the TIP digger ran its first batch of sub 7.50 runs at Norwalk. We ran 7.47, 7.48, 7.42, 7.42 and a quickest of the event - 7.40 @ 179 on Sunday. Track conditions seemed pretty good but our 60' times were off a bit. We did have a pretty "exciting" pass on Friday as the digger got pretty out of shape on its first pass. The 7.40 is just .03 off of our best times ever and we qualified #2 in the KRE Quick 16 with the 7.40 pass. We just BARELY got ahead of Bill Mellott! We made it past Tom Moon in the first round and thankfully he red lit by -.003. I forgot that crosstalk was used and was totally caught off guard. In the second round the car stalled after the burnout and would not restart. We traced the problem down to the small / lightweight batteries we were testing at the event. The battery gave up the ghost and we got timed out by the starter. We hope to be installing a new KRE sheet metal intake with twin 1250 carbs for testing later this fall!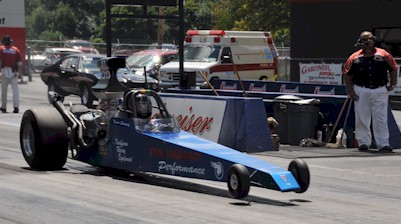 The #1 qualifyer for the 2008 KRE Quick 16 was Jeff Kauffman. Jeff qualified Saturday with a 6.79 @ 204 and a 6.72 @ 207. On Saturday, Jeff and I ran each other in the first round of qualifying. Running against a blower car is quite an experience to say the least! Knowing I was out powered, I wanted to tree Jeff for some "bragging rights". Well I treed him alright, -.012 RED ! The red light coupled with my more aggressive launch put me out early on the KRE digger, but Jeff made that up right before the 330'. There is nothing quite like a blown digger flying by you nor is there anything like it decelerating past you in the shutdown area either!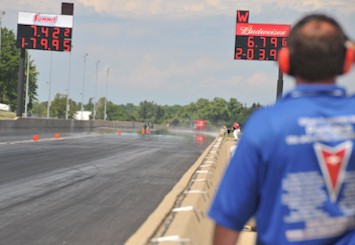 Sunday's 3rd qualifying round turned out to be quite special. Jeff ran a blistering 6.62 @ 209 mph which is the quickest and fastest Pontiac power pass ever! We would like to congratulate the whole KRE team for this accomplishment. Being racers and trying to go as fast as we can, we know the amount of time, hard work, energy and money that needs to be committed to a racing program to attain extremely high levels of performance. The list of 7 second Pontiacs is fairly short, the list of 6 second Pontiacs, even shorter! Way to go team KRE! Read more on Jeff Kauffman's 6.62 pass here on Summit Motor Sports Park's website!
During first round eliminations of the KRE Quick 16 Jeff's digger stalled after during the burn out. Further investigation revealed that the car shook violently during the burnout and activated the kill switch. Jeff could not get the car started in time and was timed out by the started at the line. Jeff subsequently made 2 more passes but was unable to best his previously posted time. Jeff's combo consists of a MR-1A Pro aluminum block with a set of KRE billet Aluminum heads with a matching billet aluminum intake.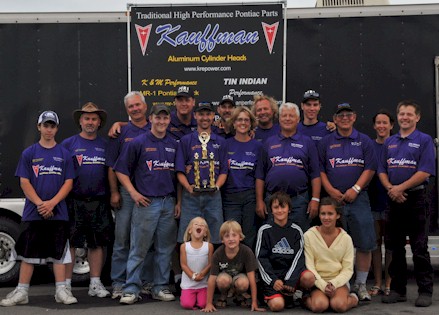 KRE Quick 16 qualifying Open side
| | | | |
| --- | --- | --- | --- |
| Name | Engine | ET | Speed |
| Jeff Kauffman | MR-1 | 6.623 | 209.20 |
| Kevin Swaney | MR-1 | 7.404 | 179.95 |
| Bill Mellott | MR-1 Billet Block | 7.45 | 149.00 |
| Todd Filson | MR-1 | 7.709 | 172.88 |
| Larry Cooper | | 8.021 | 164.69 |
| Dave Wallace | | | |
| John Wallace | | | |
| | | | |
The door side of the KRE Q-16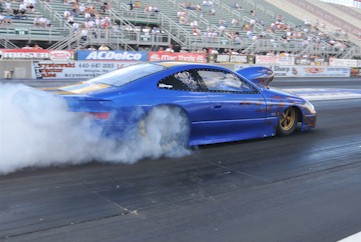 Maurice Campolucci brought his new 2007 Pro Stock GTO to Norwalk with intentions on being the #1 qualifier on the door side. The MR-1A aluminum block topped with KRE High Port heads was very impressive! Maurice had high hopes for his new KRE power plant and '07 GTO. Son Michael made his first pass ever in the car in Saturdays Q-16 qualifying. Michael's fist pass netted him an impressive 7.83@ 176! Maurice was happy to say the least!!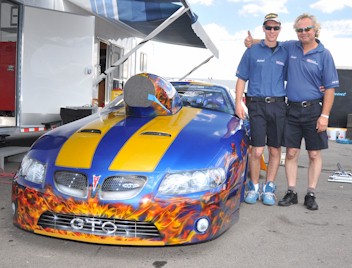 Michael Camp ended up qualifying #1 on the door side of the KRE Quick 16 with a 7.59 @ 179! Campolucci's '07 GTO is a VERY impressive car and we look for its performance to continue to improve as they get the car / combo further sorted out. We would like to congratulate them on an outstanding performance as well as welcome them to our racing team.
KRE Quick 16 qualifying Door side
| | | | |
| --- | --- | --- | --- |
| Name | Engine | ET | Speed |
| Michael Campolucci | MR-1 | 7.593 | 179.09 |
| Frank Gostilla | IA2 | 7.753 | 176.70 |
| Tom Kilroy | | 8.288 | 165.09 |
| George Zimnicky | MR-1 | 8.315 | 165.56 |
| Jim Gnadt | | 8.373 | 162.35 |
| Chris Shenuk | | 8.389 | 173.32 |
| Dil Brando | MR-1 | 8.549 | 160.19 |
| Lee Foote | | 8.575 | 158.95 |
The KRE Quick 16 was won by Richie Hoffman with a 9.15 @ 147 Todd Filson was the runner up and red lit in the finals against Richie.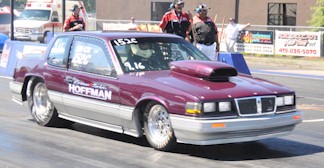 This year marked the first year for the Best Appearing Crew. The KRE team won this innagural award and the trophy was accepted by Jeff Kauffman at the starting line on Sunday during the opening ceremonies.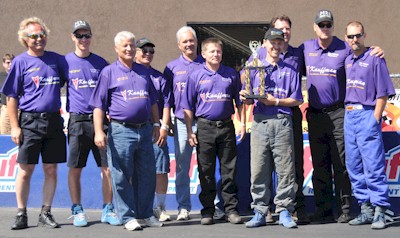 ---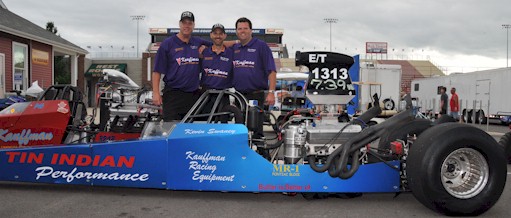 I would like to thank both Mike Williams and Craig Dienes for all of their help before, during and after the event. Not sure what I would do without these guys on my team. I would also like to thank Kauffman Racing Equipment and K&M Performance for all of their help and support. Both companies are a wealth of information to draw on and they have helped accelerate my racing program to an extremely high level. I can't thank you guys enough!.
I would also like to say a special thanks to Delbert Rogers who was our photographer over the course of the weekend. All of the photos on this section of the website were taken by Delbert. He did a fantastic job. We are hoping to get even more photos of customer's cars next year and expand our Norwalk coverage.
Congratulations to....
John Martin from Galloway, Ohio with his 73 GTO
for winning $150 of contingency money for winning Super Pro on Sunday
He also ended up winning the KING PONTIAC race as well Sunday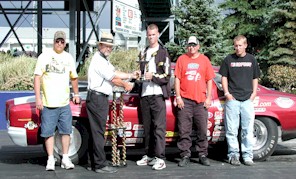 Todd Filson from Fairborn, Ohio with his '96 Rear Engine Dragster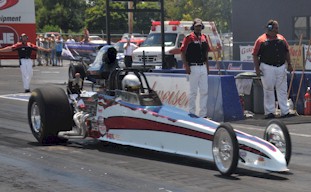 for winning $100 of contingency money for the Runner UP in the KRE Quick 16 Sunday
More details on the Tin Indian Performance / KRE Contingency program
Other Notable Performances
Jon Marquardt's 67 GTO
John's car was performing quite well over the course of the weekend. He ran a best of 10.30 @ 130 mph
George Zimnicky's 74 GTO
Congratulations to George Zimnicky for qualifying for the KRE Quick 16 with a 8.315 @ 165 mpph
Dil Brando's 66 GTO
Congratulations to Dil Brando for qualifying for the KRE Quick 16 with a 8.549 @ 160 mph
---