2009 AMES Performance Tripower Pontiac Nationals Recap

August 7, 8, & 9, 2009
We were very pleased to be apart of the 2009 event. We sponsored the street class again as well as provided out CASH contingency plan for Saturday's and Sunday's racing program. We also raffled off a pair of Billet - TEK Tin Indian Performance logo valve covers with bolts and gaskets this year. Norwalk still proved to be the premier Pontiac event in the country!
---
Congratulations to....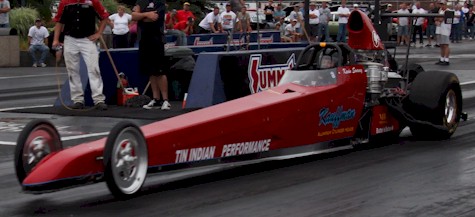 This is our new Tin Indian Performance dragster yank'n the wheels on a 7.26 pass @ 184 mph! The car ran very well all weekend despite the terrible air that we had. The DA was in the 3000+ range the entire weekend. We are looking forward to taking this record even lower this fall. See a video of the pass below.
I would like to take a moment to thank my crew Mike Williams and Craig Dienes for all of their help and hard work this year. It would be very hard if not impossible to race at this level without their help. I would also like to thank Mark and Jeff Kauffman of Kauffman Racing Equipment. Without their continued help and support of my racing program, I would not be were I am today. Thanks guys! ~ Kevin Swaney
---