Pontiac Oil Pan holddowns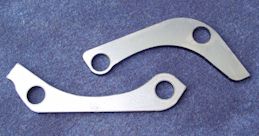 These are CNC laser cut oil pan hold-downs to replace your stock missing ones! These help prevent oil pan distortion and get bolted down at the back of the oil pan area 1 for each side.
IMPROVED!
We now have these pieces heat treated for added strength and black oxide coated for corrosion protection!