Qjet Carb Services
We can re-bush your Quadrajet's primary throttle shaft for you for $65.00 plus shipping. We normally have a 2-3 day turn around.
The service includes:
bead blasting/cleaning of the base plate
removal of the throttle shaft and installation of the new bushings
straightening the throttle shaft if necessary and centering the throttle plates
For rebushing service, please ship your base plate to:
Tin Indian Performance
2656 Watervale Drive
Uniontown, Ohio 44685
Phone (330) 699-1358
---
Qjet Carb Parts
Qjet vent block off plate
This Quadrajet vent block off plate is cut from stainless steel and replaces worn or missing plate. Kit comes with plate screw and lock washer.
---
Qjet Throttle Shaft Bushing Kit
Have a leaking throttle shaft on your Qjet? This quadrajet primary throttle shaft bushing kit is for you! You will be able to bush your own primary throttle shaft in about 20 minutes.
This kit contains 4 fasteners to attach the throttle blades to the shaft, 1.5 ml bottle of Loctite, 1 custom self-guiding drill bit with bit stop, 3 bronze oil impregnated bushings, a 2-flute 3/48 tap and instructions.
This kit sets the foundation for a good carb rebuild. We use the exact same equipment you see pictured. Bushings can be purchased in groups of 3 for $9.95 plus shipping (part # TIP-BK-001 see below).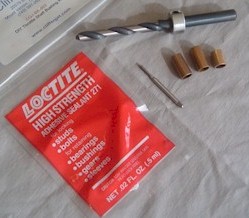 DIY Quadrajet Throttle Shaft Bushing Kit
TIP-BK-002
$59.95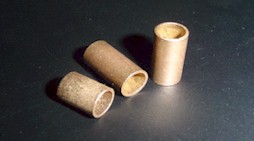 Quadrajet Throttle Shaft Bushings
TIP-BK-001
$9.95
Need more bushings?
Save more with these Qjet DIY bushing kits!
| | |
| --- | --- |
| Quadrajet DIY Throttle Shaft Bushing Kit with | Quadrajet DIY Throttle Shaft Bushing Kit with |
| 1 set of extra bushings (can do 2 carbs) | 2 sets of extra bushings (can do 3 carbs) |
| | |
| $66.95 | $72.95 |