Custom engraved Billet Specialties Air Cleaner lids
These are our new custom engraved billet aluminum air cleaners. Pictured above is the air cleaner lid we engraved for the CF-71 Freedom Bird engine. The kit includes a 14" Billet Specialities drop base 3" filter element air cleaner with a matching carb stud. We now offer custom engraving on these air cleaner lids now starting at $85.00. The standard Tin Indian Performance logo air cleaner kit is available for $200.00.
As with our custom engraved Pontiac valve covers, you are only limited by your imagination with what you can get engraved on the air cleaner lids! Call or email us and we can send you a proof of what your design will look like on the air cleaner lid.
| | | |
| --- | --- | --- |
| Plain 14" air cleaner kit | 14" air cleaner kit with TIP logo | 14" air cleaner kit with custom logo |
| BSP-15829 | BSP-TIP-15829 | BSP-CUSTOM-15829 |
| $150.00 | $200.00 | $235.00 |
---
| | |
| --- | --- |
| | Setup for remote filtering of oil with this remote oil filter plate. It is CNC machined out of 6061T-6 aluminum and has been tapped with a 1/2" pipe tap for fitting aluminum AN fittings or hydraulic hose. |

TIP-PVC040
Pontiac Valve Cover with TIP Indian Head and Pontiac logo
$350.00
| | |
| --- | --- |
| | This distributor hold down is CNC laser cut from 1/4" plate stainless steel. Perfect for using on the new rebuild or on your new KRE-MR1 block. Kit comes with hold down, bolt, and washer. |
KRE Billet Distributor hold down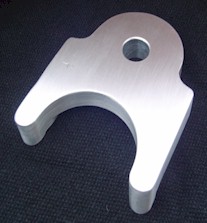 This is KRE's new billet distributor hold down made from 6061T-6 Aluminum. This is just another fine product that they have designed on one of their in house CNC machines. Will fit both stock blocks and MR-1 aftermarket Pontiac blocks.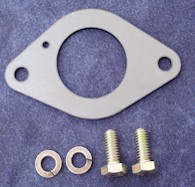 Cam Thrust Plate
Replace your lost or worn cam thrust plates with our CNC laser cut plates. These new cam thrust plate kits fit both MR-1 Pontiac blocks as well as stock Pontiac blocks. Kit comes with thrust plate, grade 8 lock washers and bolts.
This is a 150 piece stainless steel bolt kit. It comes in either hex or allen headed bolts. It's inexpensive and works very nice for finishing off an engine build. The kit includes timing cover, distributor hold down, intake, oil housing, oil pan, ,fuel block off, water pump, valve cover, and water housing bolts.

Custom Fuel Pump Block Off Plate Kits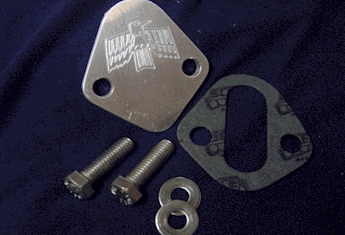 They are machined out of 6061T-6 Aluminum and a perfect match for any Pontiac engine that will be using an electric fuel pump. The kit comes with everything you see: the block off plate, gasket, 2 stainless steel bolts and 2 stainless steel washers. Pick from 1 of 4 designs..... Pontiac symbol, Indian head, Early Firebird, Late Firebird!
| | | | |
| --- | --- | --- | --- |
| | | | |
| Indian Head | Pontiac Symbol | Early Firebird | Late Firebird |
Any one....$24.95
Pontiac Alternator Relocation Kit
This kit was originally designed to work with our crank mandrel drive system. The system is extremely versatile and flexible giving the installer many options during installation. The alternator's drive pulley location can be adjusted simply by trimming the spacers. The bracket was designed to fit most Pontiac heads as well as most aftermarket heads (Kauffman D Port, Kauffman High Port, Edelbrock, etc.) The mounting bracket is made from stainless steel. Bolts and washers are also stainless steel.
---
Pontiac Timing Cover Washer
Pontiac Timing Cover Washer - stainless steel
TIP-022
$5.00
---
Pontiac Timing Cover Lift Hook
---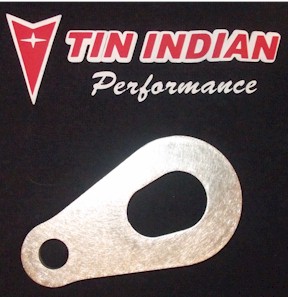 Pontiac Timing Cover lift hook - stainless steel
TIP-023
$5.00